The Spencer Turbine Company has been a leader in providing solutions to air and gas handling problems since 1892. Spencer's comprehensive product line includes single and multistage centrifugal blowers, gas boosters, central vacuum systems, mobile vacuum units, separators, regenerative blowers, electrical control panels, tubing and fittings, vacuum hoses, valves and tools and other related system accessories. Our products may be incorporated into skid packages – with blower or vacuum producer and separator, mounted on a common base with accessories and electrical controls.
Blowers & Vacuum Systems With an Engineering Edge
At The Spencer Turbine Company, we set ourselves apart by providing industrial blowers and vacuum systems with an engineering edge. Today, we employ an in-house team of chemical, mechanical and electrical engineers dedicated to improving our products and designing custom solutions for unique air handling challenges. These engineers are constantly engaged in testing, research and development at our 200,000 square foot headquarters.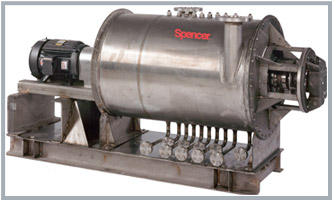 Our engineering approach to business allows us to offer systems that perform well in even the most demanding conditions. Our team can create a system to address an air handling problem even when a solution doesn't exist yet. It's this commitment to invention and innovation that's made us a respected industrial supplier since our formation in 1892.
Browse Our Selection of Quality Products
The Spencer Turbine Company supplies clients in a variety of industries with high-quality solutions for air and gas handling problems. Our vacuum systems, gas pressure boosters, industrial blowers, and other products are designed to withstand extreme conditions and perform for years at a time with little maintenance.
When you browse our product selection, you will find many well-known trademarks, such as Power Mizer® and Vortex®, as well as other systems trusted to solve unique air handling problems around the world.
We can provide custom-made and standard industrial blowers and vacuum systems that meet the highest quality standards. Our product range includes the following systems and other product accessories:
Engineered custom blowers and gas boosters
Hermetic natural gas pressure boosters and skid packages
High-speed engineered turbo blowers
Single and multistage centrifugal blowers
Regenerative Blowers
Engineered vacuum systems and separators
Metallic tubing and fittings for air handling
Electronic controls for handling systems